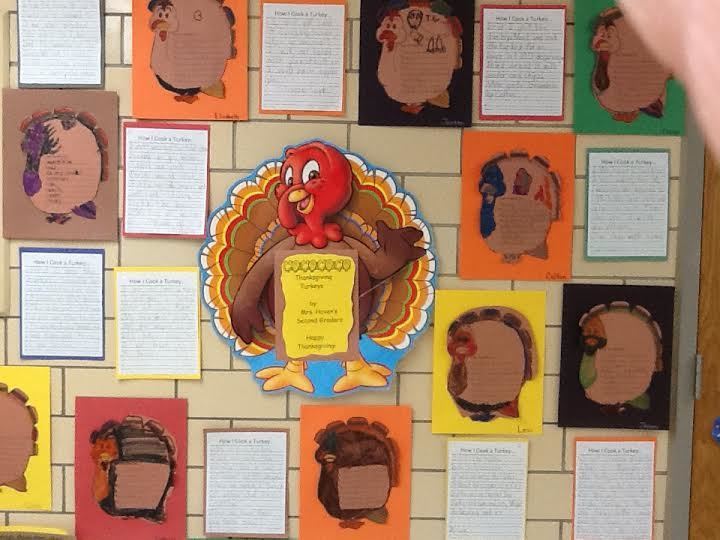 Turkey Recipes from the Second Grade
Cassandra Hoseth
Monday, December 02, 2019
We would like to wish everyone a very Happy Thanksgiving! Maybe you will give one of our recipes a try this year. Best of luck with all of your holiday recipes!
Thanksgiving Recipes from NCE Early Elementary Students
Elizabeth
First we go to the store .Secend we go home. Therd we cook it. Fourth we ad stuff. Fifth we ad peper and solt and cetchup. Sixth the degrees in the oven is 100. We cook it for 10 minutes.
Seventh we eat it at my cosins.
Levi
1. Kill the turkey.
2. Pick the featers off.
3. Add szens to the turkey.
4. We set the degree at 1000 for 4 hours.
Last we eat the turkey and ham and corn. We go to Grandma's and eat.
Sydnie
We biye a turkey. Then we cook the turkey for a cupl of howes at 40 degrees. Then we make a bunch of othre stuf like stuffing. Then we have frens and family come over.
Jaxson
1. I get a turkey from the stor.
2. My mom cooks the turkey.
3. We put the sesnening on the turkey.
4. We put lime's juise on the turkey.
5. We put the turkey on for 3 oweres and the degree is 993.
6. Then we eat the turkey.
MMMMMMMMMMMM
Colton
First I get the turkey. Next we cuk the turkey for an awer at 100 degrees. Third we eat it with woter and chips. We go to Grandmas for Thanksgiving.
Aubrey
1. I buy a turkey.
2. Bring it in the hoes.
3. Put on pepre and grlic.
4. Put it in the pan.
5. Put it in the ovin.
6. I put the ovin at 200 dgrise.
7. I cook it for 60 minits.
8. When the turkey is doen, tack it out of the ovin.
9. Put it on the table and get the cranbarres and the mashptados.
10. I eat it with my family.
Jenson
I will not cook a turkey, because it's an animal!
I will eat bread with peanut butter.
I will have apple pie.
Evelyn
1. We hunt a turkey.
2. We cook it for 10 minutes. The degrees is 45.
3. We put solt and pepr on it.
4. Then we ate it with mashbtados.
5. We share with family.
Daniel
I got to get a turkey. I will get a turkey. But it will cost $28.99. My oven degrees is 68. We put the pepper on the turkey. It's takes an hour to cook. I will trust it!
Lucas
Me and my family buy a turkey from the store. We put the turkey in the microwave for 2 and a half minuites. We cook it for 2 hours and 50 minuites in the oven. We eat it with lefsa, stuffing, pumpkin pie, and mashed potoes.
MMMMMMMMMMM
Cale
First I buy the turkey.
Second, we cook the turkey for 5 hores at 100 dgreas.
Third, we put solt and peper on the turkey.
Then we have mash ptato and ham and turkey.